Happy (almost) Halloween
Only nineteen more sleeps …


Halloween always makes me feel nostalgic. Back in the eighties, in the days when parents still allowed their children to roam around at night, I'd play hide and seek with all the kids on my street. This was a magical time for me. We'd run around in the dark, hiding behind bushes or a neighbour's garden wall, waiting to be found. The only sound to be heard was the wind in the trees and the occasional giggle.
It never occurred to me that this was an American made-up holiday. It was an excuse to dress up, play with my friends and stay up late to eat sweets. Since then I can't help but get excited about Halloween. It's a time for me to forget that I'm a responsible adult with a full-time job and rent to pay. On Halloween, I'm the magical age of thirteen, all over again.
I remember as a student, dancing the night away at a Long Street Back Packer's Lodge, dressed as a witch while my friend made out with a vampire in a cape. In my early twenties (which I call my goth years) Halloween was a busy night – everyone was throwing a party. Luckily, I didn't need to dress up anymore than I already was. A few years ago I started the tradition of watching cheesy horror movies with friends, an event which becomes more elaborate each year.
So, to get into the spirit, I've made a list of my favourite Halloween things, from when I was very young, to the present.
Spooky reads
I have been reading L.J. Smith novels since I was a kid. Her Night World series satisfied my hunger for romance, forbidden love, and the horror that was lacking in my prescribed reading list. (What thirteen year old actually enjoys reading The Great Gatsby?) Her more recent Vampire Diaries series is just as addictive, and I have no qualms admitting that I read them at 28. I recently got the chance to interview the author, which was a humbling experience for me, as she is without a doubt, the queen of teen fiction.
Another writer who played a large part of my childhood was Stephen King. His books kept me up at night, especially It, about Pennywise the pointy-toothed clown, which to this day, still gives me nightmares. King also made me want to become a writer myself. As a teen, I'd sit the lecture hall, having finished my exam before anyone else, just so I could have an hour of quiet to write at the back of my test paper.
Spooky toons
One of my fondest Halloween memories is of sitting up to watch It's the Great Pumpkin, Charlie Brown, which the SABC screened year after year. I never got tired of Linus waiting in the pumpkin patch for the Great Pumpkin that never appears.
Another timeless classic is Scooby Doo, the scaredy-cat canine that accompanies the Scooby Gang on their ghost-hunting adventures. I still watch it whenever it comes on TV, but then again, I don't need an excuse to watch cartoons.
Scary movies
Okay, I'll admit that I'm a bit of a wimp when it comes to scary movies. Films like A Nightmare on Elm Street and Child's Play were too much for me to handle as a kid, and after watching Friday the Thirteenth, I was quite convinced that a chainsaw-wielding zombie was waiting for me whenever I opened my cupboard doors.
Today I still keep my eyes closed during the scary bits.
There are however, some spooky movies I can watch again and again. Tim Burton's Beetlejuice, A Nightmare Before Christmas, Sleepy Hollow, and Edward Scissorhands are all favourites, as are the delightfully cheesy Tales From The Crypt series, which are more funny than scary.
I much prefer more light-hearted films than full-blown horror. (In other words movies that I don't have to watch through my hands) This year's line-up for Halloween includes Glenn McQuaid's I sell the dead, Ruben Fleischer's Zombieland , Nick Park's Wallace and Gromit The Curse of the Were-Rabbit and Ivan Reitman's 1984 classic Ghostbusters.
Spooky tunes
To keep things traditional on Halloween you should listen to Bobby "Boris" Pickett and the Cryptkicker Five's Monster Mash or Tony and the Monstrosities' horror pop song Igor's Party. No Halloween party would be right without it.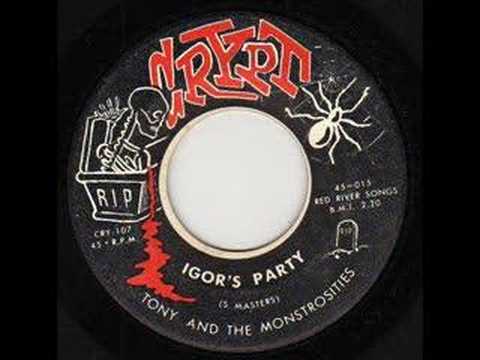 I hope you enjoyed this pre-Halloween post. I'll be sure to add another on the day.
PS: I'll be reading at this year's Horrorfest Bloody Parchment event at the Lounge of Horror (Book Lounge) on the 27 October 2010.
I've written something especially creepy for the event.
Here's a video of me reading at last year's Bloody Parchment

For more information click here.
Happy (almost) Halloween everyone!